Living the RV Lifestyle:
Practical Advice and Personal Tales from Life on the Road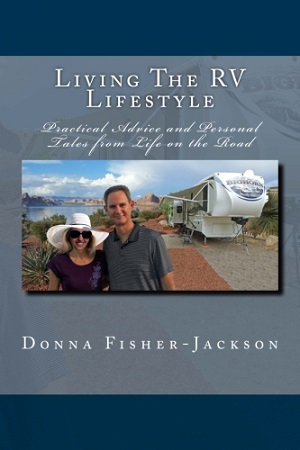 Art photography by J Alan Jackson
Living the RV Lifestyle has been a dream in the making. After three years of Full-time RV living, it was time to write about the journey as well as share all that my husband, Jim and I have learned from this experience of traveling around the country.
As of 2017, we've made a couple of grand circles around the country with some crisscrossing. We've traveled over 36,900 miles, visited 44 states and 36 national parks while camping in 73 RV parks, 3 Wal-Marts, One casino, and a family driveway. It's been a journey of many different experiences, and I've captured some of the most memorable ones in this book.
The goal of the book is to provide practical information for those who are considering the RV lifestyle whether it's Full-time, Part-time or Anytime as well as include personal stories which can give you a better idea of what it's really like to live the life of a Full-time RVer.
The book is available on Amazon.com in a paperback version and a Kindle edition.
Learn More
Click here for an excerpt to the new book, Living the RV Lifestyle (opens a pdf).
What People are saying about the book
"Guide books have their place and uses, but I love personal stories and the feelings that are evoked from personal images and favorite things. Your stories, Donna, take me places and allow my mind to paint its own pictures that are colored by your descriptions and perceptions. I feel like I'm with you in your RV in Utah and all over the USA, and that's fun! You're a good writer. I look forward to reading more."
Susanna D. from California
Jun 03, 2017 - "Book by Wareham native tells tales of living the RV lifestyle".
Wareham Week's Matthew Bernat
---
Pictures from the book - below are the full color versions of the pictures in the paperback book along with some bonus pictures.
Click to enlarge each picture.
| | | |
| --- | --- | --- |
| Donna & Jim, Wahweap RV Park in Page, AZ | Rest stop along Hwy 89 near Panguitch, Utah | Bighorn sheep, Capitol Reef NP |
| Bryce Canyon NP | Jim as Camp Host with Jacob & Denise Fisher in Holiday Hills RV Park, Coalville, UT | Death Valley NP |
| Jim & Donna in Winslow, AZ (along Route 66) | Jim & Donna selfe in Zion NP | Donna & Jim in Sedona, AZ |
| Emigrant Lake RV Park, Ashland, OR | Friday Harbor on San Juan Island, WA | Grand Canyon NP |
| Grand Teton NP | Lake Erie State Park in Brocton, NY | Lundy Canyon in Lee Vining, CA |
| Mount Rainer NP - Skyline Trail | Heceta Head Lighthouse, Yachats, OR | Yaquina Head Lighthouse, Newport, OR |
| Wahweap Campground in Page, AZ | Redwoods NP in Crescent City, CA | Winter RV'ing at Rutledge Lake RV Park near Asheville, NC |
| Yellowstone NP | Travertine Hot Springs at Yellowstone NP | Yosemite NP |
| Zeus climbing a black willow tree in Utah | Zion NP | Zion NP |
| Zion NP | Zion NP | View from our land on Cape Cod, MA |
| 2014 - 2015, 10,161 miles | 2015 - 2016, 8,847 miles | 2016 - 2017, 2,540 miles |
Photographs from Living the RV Lifestyle by J. Alan Jackson, Copyright © 2017