The Healing Path of the Romantic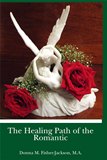 The Healing Path of the Romantic: Type Four of the Enneagram Personality Type System is available on Amazon.com and as a Kindle download, click here to go to the Kindle Store.
This Self-Help book for the Romantic includes everything you wanted to know about the Type Four from leading experts in the Enneagram field along with relationship and healing tools that can be useful for any one of the nine types of the Enneagram. This book can also help lovers understand their partners; employees understand their coworkers; and even parents better understand their children who are the Type Four, the Romantic. This guide book also includes the stories of other Romantics, and how they have found awareness and insight through the Enneagram to make lasting changes in their lives. The relationship tools in the book can also help anyone who is seeking to create a more conscious and romantic partnership. To read some of the chapters of the book, click here where you can look inside the book on Amazon.
Knowing your personality type in the Enneagram can help you to live a more conscious life. As you become aware of your unconscious behaviors and relationships patterns, you can make different choices in your life. The Romantic is one of nine personality types in the Enneagram. To discover which type you may be, check out the websites: www.enneagramworldwide.com and www.enneagraminstitute.com, or go to the Enneagram page on this website for a FREE Enneagram Test offered by Enneagram Explorations at www.enneagram.net For guidance on how to work with the Enneagram in your own life, call Donna to set up a personal counseling session.
What People are saying about the book:
"Too many 'Ah Ha' moments to count while reading this book."
"I so wish I came across this book and read this sooner. As a four, I hate to admit that there are others like me with the exact same challenges and patterns in romantic relationships; however, at the same time, it was therapeutic. I wish I would have read this rather than spend thousands and thousands on therapy. Seriously. This book does not and will not fix you or make you better. This book helps you become aware of things that may occur during your current and past relationships so you can begin working on those areas of your life."
K. Grace, a Type Four, the Romantic
---
"With a background in Psychology, Donna Fisher-Jackson in her new book, The Healing Path of the Romantic, weaves together the Enneagram Personality System with Greek Mythology, showing us how archetypes not only influence our lives, but navigates us through them as well. Being a Romantic herself, Donna deftly describes the inner experience of the Romantic and examines the challenges and strengths we all can relate to. By sharing stories of others who have journeyed this path, we find insight, soul and the deepest desires of how this archetypal personality moves through the soul's path. No matter what 'type' you are in the Enneagram, in Donna's book, you will find tools for becoming whole on the healing path that will last a lifetime."
Constance S. Rodriguez PhD, Author of "Gifts of the Soul: Experience the Mystical in Everyday Life" Llewellyn, 2007.
---
"I found this book to be an insightful, comprehensive guide to the Enneagram Personality Type System with emphasis on the Type Four, the 'Romantic'. The author describes the various personality aspects of each type and incorporates her own life's journey along with a compilation of case studies of other Type Four's. There are many healing methods and tools suggested throughout and it reads as a wonderful unfolding story. Being a 'Romantic' myself and having studied the Enneagram the past 20+ years, I've not come across another book that encompasses the full spectrum of the mental, emotional and spiritual aspects of the Type Four, until now. This is a must read for anyone new to the Enneagram or advanced students of this fascinating subject."
B. D'Amore, a Type Four, the Romantic
---
"I'm new to the Enneagram System of typing personalities, so this book gave me an excellent introduction, first of all, into the system itself and how it has evolved. Donna Fisher-Jackson is a well organized author so it is easy to pick and choose chapters to learn more about the Type Four, which she writes in great detail about, but to also see how this system can work in various ways to help a person understand themselves better and even find methods of healing the imbalances in oneself. I was especially drawn to her chapters on 'The Four Elements of Healing'. The tools she described can be applied to other types as well I'm sure, and her illustrative anecdotes made it all come alive. While this is intended to be a rather specialized book on the Romantic Type, anyone interested in the Enneagram System itself will find some pearls of wisdom within its pages."
Genevieve A. Vierling of Nevada City, California
---
"I thoroughly enjoyed your book! I thought it was structured really well, and the flow was phenomenal. You are quite a gifted writer. I will be referring back to it as it is a great resource."
Jennifer F., a Type Four, the Romantic