Summary of services provided
Counseling Services
Donna offers counseling services for women and men. Presently, she works Monday through Friday, afternoons and evenings.

For more information and to schedule an appointment, please e-mail Donna at donna.fisher.jackson@att.net or Facebook Messenger.
Donna has worked in the counseling field since 1999. Donna also completed a nine-month training program to be a Certified Hypnotherapist at the Inner Quest School of Hypnotherapy in Auburn, California.
Donna has an MA in Counseling Psychology specializing in Holistic Studies from John F. Kennedy University. In her business, she utilizes the tools of Hypnotherapy, Past-Life Regressions, Dreamwork, the Enneagram Personality Type System, Western Astrology, and the Mythic Tarot. She specializes in life transitions, relationship issues, career/vocation, creativity, spirituality, mid-life issues and life purpose.
---
Enneagram Personality Type System, A Tool for Self-Discovery
The Enneagram Personality Type System is a dynamic, and enlightening system that includes nine personality types. Each one of us gravitates towards one of the types, and through self-reflection, you can begin to see how being this type has affected your life. It's a system that can be very helpful when you feel a need for change in your life, but you don't know where to begin. It's a self-typing system where you discover for yourself what type you most resonate with. The system has been made popular by some of the leading Enneagram experts of the day including Helen Palmer, David Daniels, Virginia Price, Don Richard Riso, Russ Hudson, Sandra Maitri, Katherine Chernick Fauvre and and David W. Fauvre. learn more
---
Hypnotherapy, a Healing Tool for the 21st Century and Journeys through Time ~ Past-Life Regressions
Hypnotherapy is a healing tool with many more uses than losing weight and quitting smoking. The tool is definitely helpful in changing habits, but that is really the tip of the iceberg for all its many uses.
With hypnosis you can:
| | |
| --- | --- |
| • Feel worthwhile and self-confident | • Regain your natural ability to sleep easily |
| • Gain a happier home life; become a better partner, parent, or friend | • Sell your ideas, and your services with confidence and enthusiasm |
| • Make better decisions | • Attract and maintain worthwhile friendships |
| • Improve concentration | • Discover your negative mental patterns and how they affect you |
| • Overcome procrastination | • Free yourself from hostility, resentment, fear of rejection |
| • Reduce conflict and stress | • Select your goals in life, and intend to manifest them |
| • Promote health and well-being | • Think more positively because we do create our own reality |
---
Western Astrology Consultations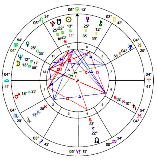 "Donna Fisher-Jackson brings a unique wisdom to her work as an intuitive astrological reader. A wisdom grounded in life experience of her own transformational growth and healing. She brings a refreshing positive spirit with an excitement of discovery. Donna is able to connect on the transpersonal level in her readings. I have thoroughly enjoyed meeting and working with Donna in my life search for balance." Diana of San Jose, CA. learn more
---
Mythic Tarot Consultations

Mythic Tarot consultations give insight and direction for the coming six months as well as help clients to find clarity around present day situations. The Mythic Tarot cards were designed by psychotherapist, Juliet Sharman-Burke, and astrologer, Liz Greene. The cards incorporate Greek mythology and Western Astrology along with the traditional major and minor arcana card meanings. learn more
---
As a Certified Hypnotherapist, I do not diagnose, prescribe, treat, or attempt to cure physical, mental or emotional disorders. I am not a licensed psychotherapist or physician. My services are complementary to the healing arts services that are licensed by the state of California. I am a Certified Hypnotherapist with the American Council of Hypnotist Examiners (ACHE) which is a professional organization chartered by the state of California to establish training standards, standards of professional practice, and a code of ethics.